COME CATCH YOUR
TROPHY MUSKIE!
Moira Lake is famous for the huge Muskie that live in its waters! If you like fishing for these monsters, this is the Lake for you!
Some of the most popular freshwater fish species can be found in abundance in this beautiful lake, including:

Walleye / Pickerel
(opens 2nd Saturday in May)
Large Mouth / Small Mouth Bass
(opens last Saturday in June)
Muskellunge ("Muskie")
(opens first Saturday in June)
What you need to know before fishing in Ontario.
Includes how to get a fishing licence, Outdoors Card, city fishing, camping on crown land, and eating Ontario fish.
Moira's Pan Fried Pickerel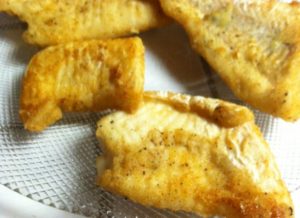 Everyone knows how dee-lish-oussss a nice bit of Pickerel can be. Here's a super recipe for you to try once you've brought home the big one! Just click on the pic for the recipe!
Place flour in shallow bowl; in separate shallow bowl, whisk together milk and egg. In another shallow bowl, place cracker crumbs. Using sharp knife, cut fillets diagonally into 2-inch wide pieces. In deep frying pan, heat oil to 375F 190C. Meanwhile, dip fish, 1 slice at a time, into flour, shaking off excess, then into milk mixture, then into cracker crumbs, pressing on both sides to coat thoroughly. Fry a few pieces of fish at a time for 3-4 minutes or until golden and fish rises to top of fryer. Serve with a slice of lemon and some french fries from the local chip wagon! Yummm!
What you will need:
2 lb Pickerel fillets, skinned
1/4 c All-purpose flour
2 c Saltine cracker crumbs
1/4 c Milk
1 Egg
Vegetable oil to deep-fry
Salt and Pepper

Copyright © 2020 Moira Lake Cottages - All Rights Reserved